Mango Lassi popsicle. A delicious homemade popsicle recipe inspired by Indian cuisine. These mango lassi pops are easy to make and packed with fresh mango and probiotic Greek. Mango Lassi Popsicles - sweet, creamy, colorful, and impossible to limit yourself to just one.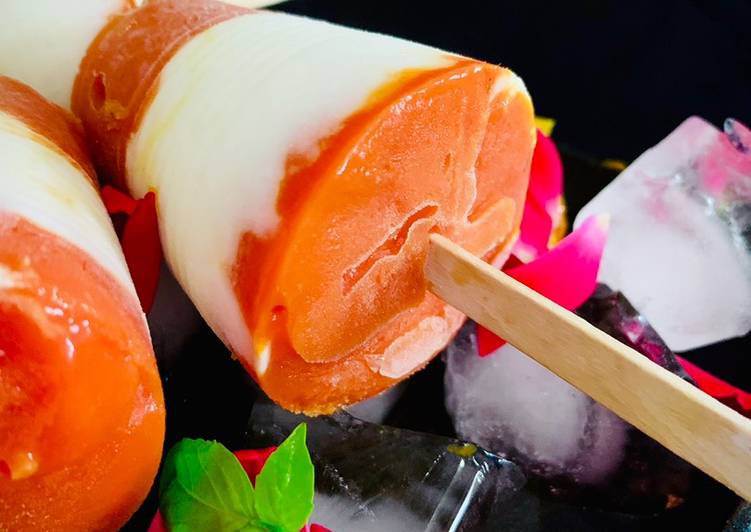 Serve them at a party and everyone. Make space in your freezer (hides head in shame) because popsicle season has begun! I know, I know you can totally eat popsicles year. You can cook Mango Lassi popsicle using 7 ingredients and 3 steps. Here is how you cook that.
Ingredients of Mango Lassi popsicle
You need 2 cup of full fat yoghurt.
Prepare 3 of mangoes.
Prepare 1/2 cup of fresh cream.
You need 1/4 cup of honey.
It's 3 tbsp of sugar.
You need pinch of saffron.
You need 1/4 tsp of Cardamom powder.
These Mango Lassi Homemade Popsicles are just right for beating the summer heat! On a sweltering summer evening in Hyderabad, India I walked out of a school compound and into a rickshaw. The long-awaited phenomenon known as Popsicle Week is here! I'm joining the party with these layered mango lassi popsicles.
Mango Lassi popsicle instructions
Wash the mangoes,then peel it cut into slices discard the seeds then in a blender put the mango pieces,honey,soaked saffron strands blend it until smooth once done pour it in a bowl and keep it in the freezer for 30 minutes.
Then again in a blender put fresh yoghurt,fresh cream,sugar,cardamom powder blend it until smooth once done pour this in another bowl and keep it in the freezer for 30 minutes,now after this take popsicle molds add 2 tsp of mango purée in each mould then 4 tsp of yoghurt mixture over the mango layer then again repeat,then wrap the mould.
With aluminum foil and snip it little at the top with a knife and insert a popsicle stick then place this mould in the freezer for 8 hours or until set,just before serving dip it in warm water and then slowly remove it from the mould,enjoy...
Enjoy Mango Lassi in popsicle form! Frozen Mango smoothie with mango puree, yogurt, milk, honey and One of the things I got for my birthday was a popsicle mold. I have been wanting one for a while and this. A traditional mango lassi popsicle is made of yogurt, mango and cardamom. These mango lassi popsicles were a snap to make.