Kid-Friendly Meat Sauce for Pasta. The meat sauce is made with lean ground beef and sweet Italian sausage, plus a rich combination of whole-milk ricotta, Parmigiano-Reggiano, and shredded mozzarella cheese. Try this kid-friendly pasta dish—it's loaded with sliced onions, zucchini, fresh corn kernels, and cherry tomatoes. One Of The Easiest And Most Delicious Versions Of The Classic Dinner Recipe Everyone Loves!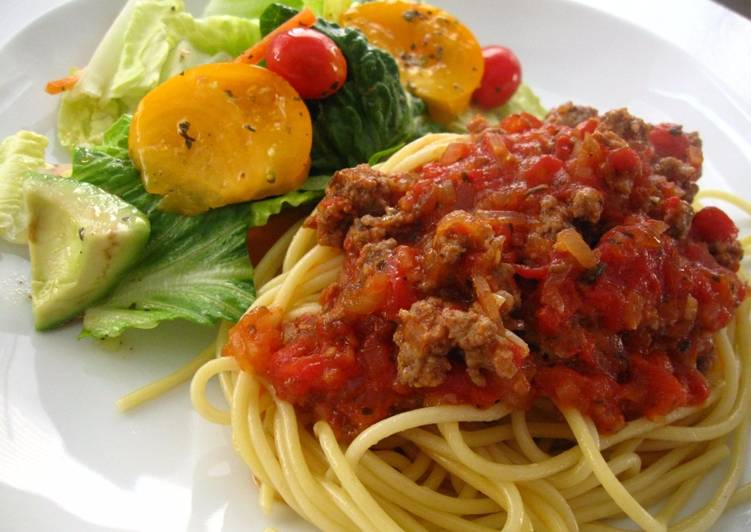 If you're pressed for time (who isn't these days?) and have picky eaters in your family, then this recipe is perfect for you. You can hide a healthy serving of vegetables into this pasta sauce and have your veggie haters asking for seconds. This baked pasta is super-kid-friendly. (They won't be able to detect the cauliflower!) To prevent the sauce from getting too salty, we recommend a measured amount of salt for the pasta water. You can cook Kid-Friendly Meat Sauce for Pasta using 12 ingredients and 7 steps. Here is how you achieve it.
Ingredients of Kid-Friendly Meat Sauce for Pasta
You need 1.5 pounds of 80/20 ground beef.
You need 2 of medium onions, minced.
It's 6 of large cloves garlic, minced.
Prepare 2 Tablespoons of oil (vegetable or olive work fine).
Prepare 1 Tablespoon of dried basil.
You need 2 teaspoons of dried oregano.
You need 2 of bay leaves.
You need 1 Tablespoon of tightly packed brown sugar.
Prepare 1/4 cup of ketcup.
Prepare 2 (28 oz.) of cans tomatoes.
Prepare 1/2 teaspoon of black pepper.
You need 1.5-2 teaspoons of kosher salt.
A delicious tomato pasta sauce made with red lentils and packed with protein and fibre. A quick, easy but super delicious recipe for Sausage Meat Ragu. It's time to branch out from butter noodles. Instead of making two separate dinners, make a kid-approved pasta everyone will like!
Kid-Friendly Meat Sauce for Pasta step by step
In a large pot (4 quarts minimum), bring 1 Tablespoon oil to medium high heat and brown the ground beef, breaking it into small chunks as it cooks, and seasoning it with 1/2 teaspoon kosher salt. Using a large cooking spoon, move the cooked meat to a bowl or plate and set aside. Remove some or all of the grease from the beef to your liking. (I like to leave about half for flavor.).
Add 1 Tablespoon oil into the pot, reduce the heat to medium, and sweat the onions and garlic, stirring occasionally, until the onions are translucent. This should take 4 to 5 minutes..
Add in the dried herbs, stir them in, and give them a minute to bloom in the oil..
Add in the rest of the sauce ingredients, including the ground beef, give it 3 or 4 gentle stirs to mix everything together, and simmer with the lid askew (about 1/4-inch opening on one side) for a total of 45 minutes on medium low heat, stirring every 10 minutes or so to redistribute the ingredients and to make sure the sauce isn't burning on the bottom. If you can scrape stuff off the bottom during a long simmer, your heat's too high, and you should adjust down accordingly..
During the long simmer's a good time to boil and drain your pasta..
Before the last 10 minutes of simmer is a good time to adjust your seasonings as well..
Enjoy! :).
The simplest homemade spaghetti sauce, ever. Prosciutto, wine and mushrooms dress up this all-purpose spaghetti sauce; keep some handy in your freezer to toss with your favorite pasta, layer into lasagna or spoon over polenta. Heat a large Dutch oven over medium heat. Add ground beef and cook, breaking up meat with a wooden Kid-Friendly. When it comes to kid-friendly school lunches, there's no denying that variety and ease of preparation are the most important ingredients.