No Knead Cheesy 🧀Beer 🍺 Bread 🍞. Just five ingredients and stupid easy to make. Crusty golden outside, and pillowy soft cheesy inside. Remember this life-changing No Knead Bread?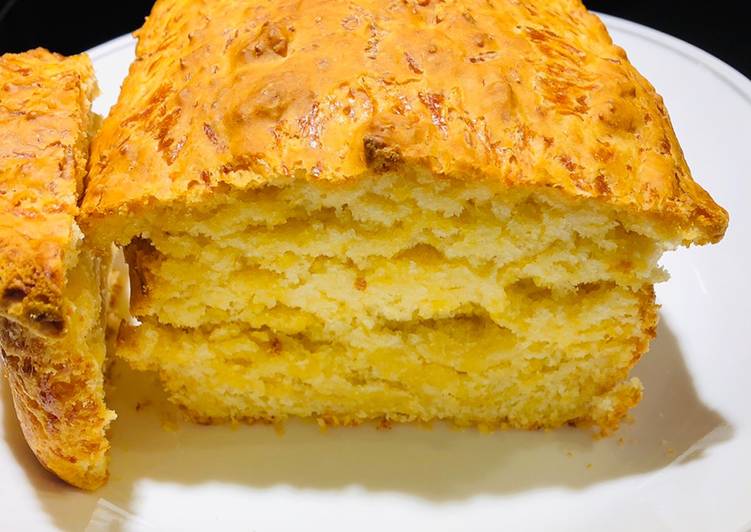 The no-knead bread making method has revolutionized bread baking. The average family can now have bakery quality artisan bread fresh from the oven in their own homes with little or no-kneading. No-Knead Beer Bread Recipe - Easy Homemade Bread. You can have No Knead Cheesy 🧀Beer 🍺 Bread 🍞 using 6 ingredients and 5 steps. Here is how you achieve that.
Ingredients of No Knead Cheesy 🧀Beer 🍺 Bread 🍞
It's 1 bottle of beer (your favorite brand!).
It's 2 cups of triple cheddar cheese.
Prepare 1/8 teaspoon of salt.
It's 3 tablespoons of white sugar.
Prepare 3 cups of self rising flour.
Prepare As needed of Butter cooking spray.
This amazing no-knead rye bread is packed with the flavor of the beer and the caraway seeds and has a wonderful texture and taste. Try to weigh ingredients, but if that isn't possible, measure the flour, beer, and water as accurately as possible. The final dough should be fairly soft and somewhat ragged. HOMEMADE YEAST BEER BREAD, NO-KNEAD This no-knead beer bread is an absolute classic.
No Knead Cheesy 🧀Beer 🍺 Bread 🍞 step by step
In a large bowl mix together beer, triple cheddar cheese, salt, white sugar and flour, mixture will be sticky.......
Pour mixture into a loaf pan that has been sprayed with butter cooking spray.......
Bake in a preheated 350 degree oven for 1 hour, or until bread is set on top......mine was done in about 45 minutes, I guess it depends on your oven exactly when your bread will be done !.
Let cool slightly, remove from loaf pan, then serve warm with butter or jam and enjoy 😉!!.
Your beer bread will have a crusty crust and wonderful soft inside !! 😁😁.
The Breadtopia no-knead bread baking recipe and video tutorial. Create an artisan loaf of bread at home from four ingredients with about ten minutes work. Bread Baking Instructional Videos, Recipes, and Baking Equipment and Supplies. You did see the word cheesy, right? (This post is in partnership with Harvesters! But we'll get to that.) You know my obsession with Bittman's no-knead bread.