BASQUE CHEESECAKE (w/ crust). Easy no crust burnt Basque cheesecake is the easiest one bowl recipe. It is perfectly caramelized on the top and edges and creamy yet firm on the inside. It's got the foundation of a basic cheesecake recipe, using a combo of cream cheese, heavy cream, eggs, and sugar.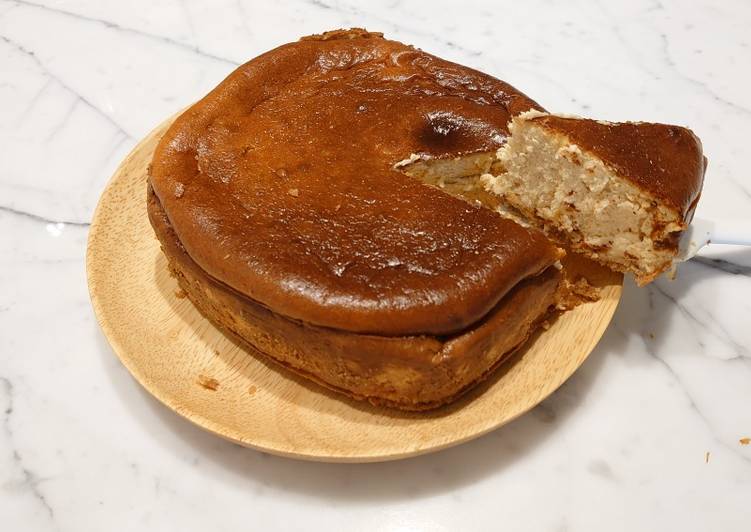 American cheesecake is baked low and slow in a waterbath. Basque cheesecake, on the other hand, is baked high and fast. This high temperature forms a caramelized exterior that serves as a natural crust for the cheesecake. You can cook BASQUE CHEESECAKE (w/ crust) using 11 ingredients and 6 steps. Here is how you cook it.
Ingredients of BASQUE CHEESECAKE (w/ crust)
It's of Filling.
Prepare 250 g of Cream cheese (room temperature).
It's 60 g of Sugar.
It's 2 of Eggs.
Prepare 170 g of Heavy cream.
You need 1/8 tsp of Salt.
You need of Few drops of Vanilla extract.
You need 15 g of Cake flour.
Prepare of Crust.
It's 4 pieces of Digestive biscuit.
Prepare 25 g of Melted unsalted butter.
Popular quarantine treat Burnt Basque Cheesecake comes in many variations thanks to home bakers all over the Metro spicing up the classic dessert with cool add-ons like fresh mangoes, ube halaya, and a fluffy rice base a la bibingka! We recently found another version worth trying and it's perfect for cookie lovers: This Burnt Basque Cheesecake from The Cheesy Baker has a crunchy Oreo crust! The prettiest simple Blueberry Basque Cheesecake. Inspired by the Basque region of France, this cheesecake has a flaky puff pastry crust surrounding the creamy cheesecake filling.
BASQUE CHEESECAKE (w/ crust) instructions
Melt the butter in a 6" non-stick cake pan. Mix with crushed digestive biscuits. Press firmly into bottom and sides of the pan. Set aside..
In the mixing bowl, add cream cheese and sugar. Beat until light and smooth. Scrape down bowl with spatula as needed to evenly mix..
Add eggs, one at a time, beating until one egg is completely mixed before adding the next egg..
Add heavy cream, salt, vanilla. Sift in flour. Beat until batter is smooth and no lump remains..
Pour batter into the prepared cake pan. Place cake into the air-fryer and bake at 190°C for about 15 mins or until dark brown on top and still jiggly in the centre. Cover with foil paper when bake as needed..
Let cool at room temperature (It will deflate dramatically). Cover and chill overnight to let it set. Let it come to room temperature before cutting and serving..
Its deep brown top has cracks all around for an old-world look. Sprinkle fresh summer blueberries over top to complete. Join Molly Baz in the Bon Appétit Test Kitchen as she makes a burnished basque cheesecake. This cheesecake is the alter ego to the classic New York-style cheesecake with a press-in cookie crust. This distinctive cheesecake is baked in a high heat oven, giving it a delicious dark brown top that tastes of caramel and toasted sugar.