King Prawn and Chicken Satay Stir Fry. This Satay Chicken Stir Fry is a firm favourite at my local Chinese take out! Made from scratch and easy to make, this will satisfy your satay craving! The CHINESE takeout version of chicken satay!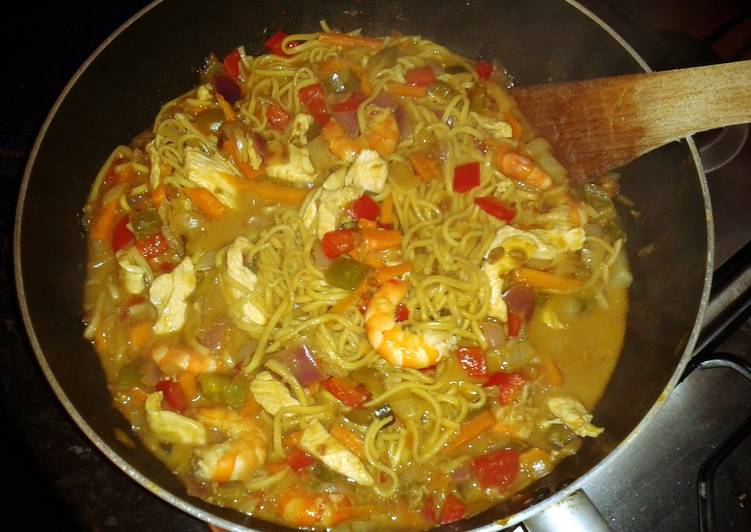 Spring onions, garlic and ginger give an authentic Cantonese Add the prawns to the garlic and ginger, fry for one minute, tossing the wok or stirring the prawns with a spoon a couple of times. Heat the wok, then add the groundnut oil. Add the prawns and chicken and stir-fry for a couple of minutes. You can cook King Prawn and Chicken Satay Stir Fry using 11 ingredients and 8 steps. Here is how you achieve it.
Ingredients of King Prawn and Chicken Satay Stir Fry
Prepare 3 tbsp of extra virgin olive oil.
You need 1 of large onion finely chopped.
You need 4 clove of garlic finely chopped.
It's 2 of chilli peppers de-seeded and finely chopped.
Prepare 1 of green pepper diced.
It's 1 of red pepper diced.
It's 4 of carrots peeled and cut into thin strips.
You need 240 grams of peanut satay sauce.
It's 4 cup of medium egg noodles.
Prepare 2 of chicken breasts de-skinned and boned cut into bite size strips.
You need 10 of king prawns de-shelled.
When the chicken starts to brown and feel firm, remove everything to a plate. Then add the lime juice and soy and fish sauces and return the chicken and prawns to the pan. Toss everything together well, then add the cooked or. This recipe meets all of the following criteria Discover Malaysian flavours with Wattie's WOK Creations Malaysian Peanut Satay Sauce.
King Prawn and Chicken Satay Stir Fry instructions
Heat oil in wok/large pan over a moderate heat..
Add onions and garlic. Cook until soft..
When soft add peppers, carrots, chilies and cook for about 5 mins..
Add chicken and stir in..
Add Satay sauce and cook for about 2 mins..
Add king prawns..
Add noodles and cook for about 2 mins..
Season to taste and enjoy..
Roasted peanuts and smooth coconut milk, combined with a hint of chilli and a blend of exotic spices, for a. For stir-fry, heat a large nonstick skillet over high heat. Heat all ingredients for sauce together in a small pot over low heat, stirring the sauce until all ingredients are combined. Add the cabbage, carrot and bok choy and stir-fry for another minute. Then add the noodles and the remaining half bottle of the Thai Spicy Satay Sauce.